Wow….. where to begin.
Well… let's try with …..30 years ago… 2 children were born. 2 girls. In the same hospital. 8 months apart. They grew up together. Went to church together. Had gazillion sleepovers. Spent umpteen amounts of nights talking and giggling together. They were not just friends. They were sisters.
Separated by schools, friends, thousands of miles and time… they are still to this day…. the best of friends! 😀
And I am so proud of my friend. Of the beautiful, smart and loving woman she has become. So, Kessy…this is to you. To us. Our friendship. May it continue to flourish and grow for eternity! I love you!
This shot was taken by my wonderful Mama back in June of 1987!!! hahahaha It's obvious that even then I was vertically challenged…and I had a giant Madonna-gap which allowed me to whistle like a champ! Too bad it fixed itself when i lost those teeth….lol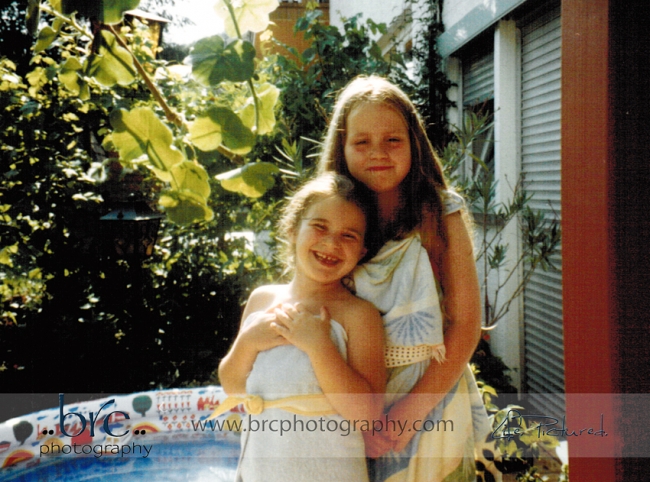 Okay… so fast forward…. the night Katherine called me to tell me the big news that she was getting married – I think I screamed her ear off I was so excited! LOL
Zack, whom you already know as well from their engagement session, spent the first years of his life living in San Diego. And it has always been his dream to one day be sealed for all time and eternity inside the San Diego LDS Temple. So…. what do you do when you decide to get married? Since you (ultimately) only get married once …. you make dreams come true. So this first sneak peek is of their wedding part in San Diego, Californ-I-A. Oh, and this is also where I got really sick… haha… so here I am for the first time in San Diego – ever – and I can't even really enjoy my leisure days due to a nasty, nasty virus. But that we shall not dwell upon but move forward… to the fabulous Katherine and Zack! Well… or little Sophia blowing bubbles. 😀
Now…Katherine & Zack or as we shall refer to them now as Mr. & Mrs. Olsen!!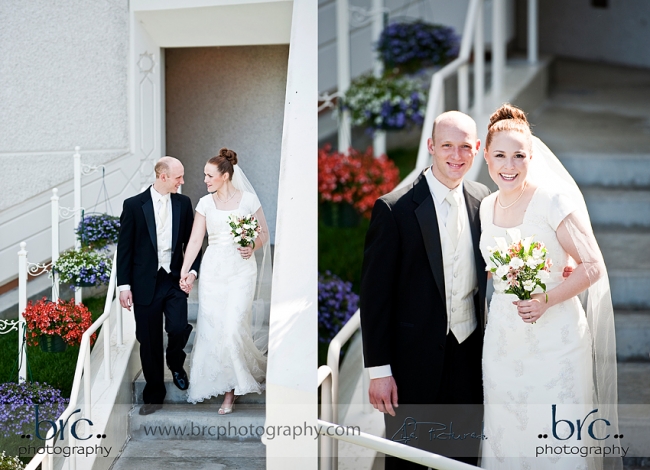 Katherine you are absolutely breathtaking!!



Ha! and… I guess there's always that one person who has to jump in front and take their own… iphone shot!!! lol Thanks Alexander! ;D



Judith, Katherine & Elizabeth …. (the bride's 2 sisters)…. it was soooooo wonderful to finally see all of you again!



And here's what the bride's niece Sophia thought of the wedding day:



Here's to you both….. thumps up as Sophia shows us in the pictures above. Be happy. Live righteously. Enjoy life and always remember to support and love one another!
Stay tuned….. to be continued. 😀
… until next time; and don't forget to leave me some comment love …
Wow….. ich weiß garnicht genau wo ich anfangen soll.
Hmm… wie wär's mit …..vor 30 jahren… sind 2 Kinder auf die Welt gekommen. 2 Mädchen. Im gleichen Krankenhaus. 8 Monate auseinander. Sie sind zusammen aufgewachsen. Sind zusammen zur Kirche gegangen. Haben unzählbar viele Nächte bei einander übernachtet. Haben diese wieviel Nächte mit kickeln und plappern verbracht. Sie waren nicht nur Freundinnen. Sie ware Schwestern.
Obwohl sie durch Schule, Freunde und Tausenden von Kilometern voneinander getrennt wurden….sind sie auch noch heute…. die besten Freundinnen! 😀
Und ich bin so stolz auf meine Freundin. So stolz auf die wunderschöne, kluge und liebevolle Frau sie geworden ist. Also meine Kessy….ein Hoch auf dich. Auf uns. Auf unsere Freundschaft. Möge sie weiter wachsen und verstärkt werden bis in alle Ewigkeit! Ich hab dich lieb Maus!
Okay… als Katherine mich also eines Abends anrief um mir die tolle Botschaft zu vermitteln, dass sie sich verlobt hat, hab ich ihr glaub ich die Ohren vor Freude abgeschrien! LOL
Zack, den ihr ja schon vom Verlobungs Shooting der beiden kennt, ist als kleines Kind in San Diego, Kalifornien aufgewachsen. Und es war schon immer sein Traum sich an seine zukünftige Braut im San Diego Tempel der Kirche Jesu Christi der Heiligen der letzten Tage siegeln zu lassen. Also….was macht man wenn man (im besten Falle) das einzige Mal heiratet? Man(n) erfüllt sich seinen Traum. Also ab ging's für mich nach San Diego. Diese erste Vorschau ist also vom 1. Teil der Hochzeit im sonnigen San Diego. Oh, und hier wurde ich auch leider so krank. Da bin ich nun endlich zum aller Ersten Mal in San Diego, und ich kann meine 2 freien Tage nicht wirklich in vollen Zügen genießen weil ich so krank war. Na supi. Aber ich will nicht mehr darüber nachdenken, sondern lieber über die 2 Turteltauben Katherine und Zack!
Und wo wir schonmal an der Küste waren mussten wir das natürlich auch ausnutzen für Strandfotos.





















Nach dem Strand… zum aufwärmen in's Auto….



….und zurück zum Tempel für Nachtfotos!





Ein Hoch also auf euch 2 zusammen…..beide Daumen hoch wie die süße Sophia schon in den Fotos veranschaulicht. Seid glücklich. Lebt rechtschaffen. Genießt euer gemeinsames Leben und denkt immer daran euch gegenseitig zu unterstützen und zu lieben!
Bleibt dran….. der 2. Teil folgt bald. 😀
… bis zum nächsten Mal; und vergesst nicht mir etwas Kommentarliebe zu hinterlassen …